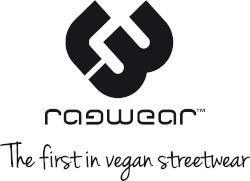 Ragwear is the first brand in vegan streetwear – and is recognized for it's ethic, environmental and human engagenment as well as the animal protection.
VEGAN
Ragwear does not use any animal products and is in no way inferior to conventional fashion in terms of quality and design.
In 2015, Ragwear brand was certified as a « PETA Approved Vegan » by the animal protection organisation PETA for it's commitment to preventing animal suffering.
ORGANIC
Ragwear has also developped an ORGANIC collection that consists of the natural fabrics as cotton (GOTS – certified), bamboo, viscose, lyocell, linen, as well as recycled polyester, which gives discarted synthetic fibres as new lease of life, thereby contributing to waste reduction.
Ragwear is using only biodegradable and compostable packing materials.
RESPONSABILITY
Ragwear's production methods allow to save 70% of energy, to reduce by 75% the CO2 emission and by 86% the water consumption.
The costs of Ragwear's engagenments are considered as it's contribution to an intact environment and an investment in the future of our planet.
« In Hearth we trust »